Location : On Malabar hill in South Mumbai

Specialty : Two-day Banganga Musical Festival in January

Attraction : Banganga Tank, Walkeshwar temple, Hanging Gardens

Timing : January
Perched on Malabar Hill, Banganga tank is housed in the precincts of ancient the Walkeshwar temple.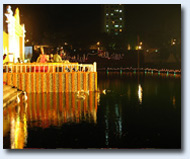 This temple was built by the kings of Silhara dynasty who ruled Bombay from 9th to 13th Century. It was during their reign that Banganga tank was built and was renovated in 1715 by the donation made by Rama Kamath, Bombay's rich businessman and philanthropist.

According to legends, the Walkeshwar temple was built by Lord Rama, who sent his brother Lakshman to Benaras to get a Shivalinga to be established here. Before it could be brought here, an alternative linga was placed at the site made of sand. And the name Walkeshwar cropped up as in Sanskrit Valuka Iswar meant idol made of sand.

About the appearance of Banganga, legends mention that a thirsty Lord Rama shot an arrow at the site leading to the gushing stream of water from the ground. Whatever the legends and mythologies have it, Banganga tank has its own sacred importance and devotees flock the place to pray.

Maharashtra Tourism Development Corporation (MTDC) organizes a two-day cultural festival early in the month of January each year. The festival is a vibrant occasion when live musical performances and concerts are organized electrifying the whole of the atmosphere.

Neighboring to the Banganga Tank on Malabar Hill there are several attractive destinations with great tourist importance. These spots include Jain temple, the Hanging Gardens, Kamala Nehru Park and Priyadarshini Park.