Welcome to Bombay. Avail the 24-hour complimentary airport coach service and check into Hotel Airlink, a World of hospitality and elegance! Featuring in a prime location within the proximity's of the airport and the link's to Bombay's commercial pockets, Hotel Airlink, is synchronized to cater to the Western living style - all at a reasonable price with minimum service charges.

Location :
Near Santacruz Airport, Vileparle (E), Mumbai (Bombay)

Accommodation :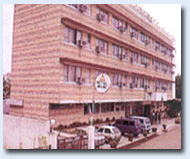 Book This Hotel
Hotel Airlink Bombay has double rooms and suites. All the rooms are air-conditioned with pleasing décor, 24 hrs Room Service, Hot & Cold water, 2 Channel music & color TV, Satellite network, In house video, cable and Telephone with direct dialling facility.

Dining :
In house restaurant caters to your taste for hygienic and wholesome Chinese, Continental, Indian and Moghlai cuisines.

Facilities :
A Charming terrace garden and a well -equipped Conference Hall complete the excitement at Hotel Airlink

Services :
Hotel Airlink takes care of all your requirements so that you could never have any problem. Some of the basic services provided by us are Safe deposit and laundry.