Of the large number of Hotels in Mumbai, one of the most popular Budget Hotels in Mumbai is Hotel Seaside. If you are traveling under budget constraints, it is one of the best places you can choose to put up in for a comfortable stay at pocket friendly prices. Conveniently located at a distance of about 3 km from the railway station and half a kilometer from the bus stand, a pleasurable stay in this capital city of Maharashtra is guaranteed if Hotel Sea Side is your choice.

Accommodation :
2 single rooms, 31 double rooms, 2 suites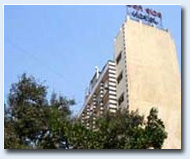 Book This Hotel
Choose from the above mentioned Categories of rooms for a very relaxed stay. The rooms are synonymous with ease and comfort. They are suitably furnished and tastefully decorated. The absence of any sort of extravagance renders a very homely feel to these well appointed rooms. The presence of all necessary modern facilities like supply of hot and cold water, television, channel music, telephone, safe deposits accentuate their comfort level.

Location :
The Hotel Sea Slide is conveniently located 5 kms. from Airport, 3 kms. from Railway Station and 1/2 km. from Bus Stand.

Dining :
Savor delicious Indian and Chinese delicacies at the restaurant of the hotel. All your taste buds are sure to be satisfied and what will surely please you equally is that the prices charged for the meals are very reasonable. There's a well stocked bar too where you can choose to relax with your favorite drink in hand.

Other Facilities :
The hotel has a banquet room which serves the dual purpose of hosting business meets as well as personal gatherings. The facilities on offer coupled with the willing cooperation ensure that any event organized here is a success.
If you are interested in a sight seeing trip of the city of Mumbai, just ask the Travel desk of the hotel to make all the necessary arrangements and they will be only too happy to oblige. They are also there to satisfy other travel related quarries.

Book This Hotel