Located off the west coast of India, Mumbai has a deep natural sea harbour. The city handles over half of India's passenger traffic and a significant amount of cargo.Mumbai is also one of the few cities in the world that accommodates a national park, the Sanjay Gandhi National Park,within its city limits.

Goregaon is located in the northern part of the city and is well connected by all modes of transportation like buses, taxis, auto-rickshaws and trains. There is also a railway station centrally located in Goregaon.
GRAND SAROVAR PREMIERE, MUMBAI is a premium business hotel conveniently located just a few minutes away from InOrbit, the happening one-stop mall.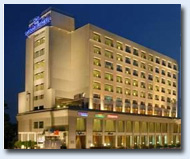 Book This Hotel
With Mindspace, the BPO hub of Mumbai and International and Domestic airports in close vicinity, this contemporary hotel is ready to roll out a red carpet.

Connectivity :
By Air : Mumbai is an International Airport. Many International Airlines operate flights to Mumbai from various parts of world. Chatrapati Shivaji International Terminal for international flights and Chatrapati Shivaji Domestic Terminal is for domestic schedules. Grand Sarovar Premiere is 28 km from the city centre and 7 kms from the domestic airport (Santacruz) and 9 kms from the International airport. (Sahar)

By Rail : Mumbai is the headquarters of the Central and Western Railways. Regular train services connect Victoria Terminus and Mumbai Central stations to different parts of India. Grand Sarovar Premiere is 15 km from the Dadar Railway Station.
Facilities :

No. of rooms in different categories:
Superior Room : 77
Deluxe Room : 20
Executive Room : 1

Restaurant Facilities :
- 180 - The 24 hour specialty Indian Chinese & Continental restaurant
- Liquid Lounge - The Bar

Other Facilities :
- 24/7 In Room Dining
- Meeting & Banquet facilities
- Business Centre
- The Gymnasium
- Swimming Pool
- Wi-Fi Service
- Foreign exchange

Conference Facilities :
- Senate 1 - Area of 1114 sqft with a seating capacity of 60 - 120 pax
- Senate 2 - Area of 464 sqft with a seating capacity of 30 - 100 pax
Nearest Attractions :
Colaba : Colaba is the gateway of Mumbai, It starts with Gateway Of India the landmark of Mumbai

Nariman Point/Cuffe Parade : Nariman Point is one of the posh areas of Mumbai and the business hub of Mumbai

Flora Fountain : Known, as Fountain area which is prominent hub for commercial activity of Mumbai as all the Major banks are located here.

Marine Lines : Marine Lines is mainly famous for Textile Market and other wholesale markets. One of the main areas of Marine Lines are Princess Street and Kalbadevi.

Marine Drive/Chowpatty Beach : Popularly known as Queens's Necklace this road starts from Nariman Point parallel to the Seaface via Chowpatty beach and goes on to Walkeshwar. Chowpatty beach is popular for celebrations of Coconut day and Ganesh Chaturthi immersions and for beach sports.

Breach Candy : is a popular spot for shopping renowned departmental stores in Mumbai being Benzer, Amarsons, Premsons, Hastkala, Raymonds and Sheetal.

Haji Ali Circle : On the Haji Ali Circle which is famous for Durgah in the sea is a religious shrine for the Muslim Community.

Worli : An answer to Nariman Point is the second largest area of offices of corporate. Situated here are Nehru Science Center, National Stock Exchange (NSE) at Mahindra Towers.

Juhu Beach is famous for Sunday evening outings for Mumbaites. Also Iscon Temple is situated here which is famous for Hare Rama Hare Krishna movement and the evening aarti.