Hotel The Hilton Towers is one of the leading 5 Star Deluxe hotels in Mumbai, the dream city of India.

Hilton Towers, Mumbai remains unmatched with regards to its location and view. The hotel offers an unparalleled standard of service to its guests.

Location :
The Hilton Towers hotel Mumbai is located in the heart of the city of Mumbai's banking and commercial areas. this is 35 kms. from CST Airport; and 3 kms from CST Railway Station.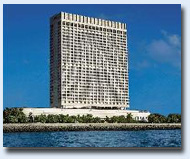 Book This Hotel

Accommodation :
The Hilton Towers hotel Bombay offers 575 rooms suites for the comfortable stay of their guests. All the hotel rooms are centrally air-conditioned.

You may choose from the 531 double rooms, and the 44 suites.

Amongst the room amenities are direct dial 2-line speaker phone with voice mail facility, mini bar, interactive color television, in room safe, internet in rooms and hairdryers.

Dining :
The Hilton Towers hotel Mumbai has three deluxe restaurants serving Italian, Continental, pan-Asian and Indian specialties. The elegant ambience and the sumptuous food makes the entire dining experience at the Hilton Towers, a memorable one.

The well-stocked bar of the Hilton Towers hotel offers the best of Indian and imported liquor, cocktails, and mock tails.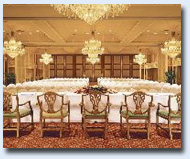 Book This Hotel
Facilities :
Hotel The Hilton Towers Mumbai is an ideal venue for conducting business, and hosting parties. The Hilton Towers hotel offers as many as eight banquet rooms of varying sizes that can accommodate from 100 to 1000 persons. All modern conference facilities available to make your business event be it a meeting, seminar, or a deal a success.

The Hilton Towers hotel in Mumbai also has a 24 hour Business Centre equipped with state of the art facilities includes two offices for private use. Then there are Nine meeting rooms that can accommodate six to twenty persons. Secretarial and courier services, Photocopier, Facsimile, Word processor, Computer, Dictaphone and internet access are amongst the other facilities available.

Services :
While staying at the Hilton Towers Mumbai you may enjoy Secretarial services, Same day laundry and dry-cleaning, 24 hour room service, Beauty salon and barber shop, Travel desk, Car rental, Bank, Chemist and concierge, A separate shopping complex on two floors, and shopping at the art gallery.