Hotel The Hyatt Regency is one of the leading 5 Star Deluxe hotels in Mumbai, the dream city of India.

Hyatt Regency Mumbai is Mumbai's premier gateway hotel. Hyatt Regency Mumbai is ideally located to become the preferred hotel for corporate travelers visiting the city of Mumbai.

Location :
Hyatt Regency Mumbai is strategically located adjacent to Mumbai's international airport and minutes from the domestic terminals.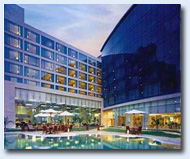 Book This Hotel

The Hyatt Regency Hotel is 1/2 km from the airport and minutes away from the city's prime commercial, banking and shopping districts.

Accommodation :
Hyatt Regency Mumbai offers 408 elegantly designed guest rooms, including two rooms for the physically challenged, 22 suites and one Presidential Suite. Each room of the Hyatt Regency Hotel has a luxurious bathroom with a separate step-down bath and rain shower, innovative glass vanities and exceptional lighting.

Hyatt Regency Hotel Mumbai provides an exclusive array of room amenities for its guests including a truly functional workstation, flat-screen television, high-speed broadband connectivity, executive bar, tea and coffee-making facilities and an in-room electronic safe.

Dining :
The Hyatt Regency hotel in Mumbai offers authentic and innovative cuisine in its three unique in-house restaurants, Stax, Glasshouse and The Lounge. All three of these restaurants reveal Hyatt Regency's commitment to fresh produce and frequently change menus according to the seasons. The dining experience offered at the Hyatt is second-to-none. The convenience of the hotel's 24-hour Room Service is also available to the hotel guests.
Facilities :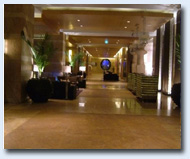 Book This Hotel
Hyatt Regency Hotel in Mumbai offers state-of-the-art conference, meeting and catering facilities. The deluxe hotel specializes in innovative and contemporary presentations supported by Mumbai's first dedicated 'one-stop' conference service through the hotel's Convention Services department.

Services :
For the fitness freaks the Hyatt Regency Hotel offers a fully equipped gymnasium and a number of Spa treatment rooms, Jacuzzis, fun showers, plunge pools and steam and sauna rooms Indeed, the Hyatt Regency Mumbai's Club Prana Spa and Fitness Centre caters to the needs of the health conscious guests. Some of the additional hotel facilities include an outdoor swimming pool, plus night lit tennis and squash courts.