Renaissance Hotel Mumbai is one of the leading 5 Star Deluxe hotels in Mumbai, the dream city of India.

At the Renaissance Hotel Mumbai and Convention Center in Mumbai utmost relaxation and international hospitality await you.

Location :
Renaissance Hotel Mumbai is located 5/9 kms. from International / Domestic Airport, 8 kms. from Andheri Railway Station, and 4.5 kms. from Kurla Bus Stand.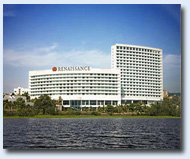 Book This Hotel

Accommodation :
Renaissance Hotel in Mumbai offers large spacious rooms where you can thoroughly relax, relieving the tensions of travel and business. The lake-facing rooms offer a spectacular view of the shimmering waters of Powai Lake, while natural sunlight streams through, highlighting the exquisite interiors of each well-appointed decorated room of Renaissance Hotel Mumbai .

The Suites and concierge rooms at the Renaissance Mumbai welcome you with first class service. The suites' cordial hospitality is synonymous with Renaissance Hotels and Resorts worldwide.

Amongst the special room services offered at the Renaissance Hotel Mumbai are Tea/coffee maker, Room safe, Ironing board, Butler service, Mini bar, DVD, Fax machine, High speed internet, Radio cum alarm

Dining :
Renaissance Mumbai Hotel and Convention Center boasts of several Bars & restaurants to offer a wide variety of tastes to suit every palate.

Lake view café this Californian style café offers healthy and innovative, full flavored cuisine in a variety of tastes.

Emperor's court featuring mainly Chinese cuisine from Shanghai and other parts of China, this contemporary style restaurant offers delicacies for even the most discerning tastes.

Bar the perfect place for meeting friends, relax and unwind with scotches and delightful snacks.

Deli and pastry shop The cake shop offers a variety of freshly baked cakes, cookies and pastries.

Nawab saheb it offers a culinary journey from the northwest frontier to the noble kitchens of India. True to its name it conjures up the most enticing array of delicacies, which were once the centre stage of feasts hosted by the royalty.

Facilities :
For International conferences and banquets, Renaissance Mumbai Hotel and Convention Center creates an elegant atmosphere.

The impressively appointed Grand ballroom offers a spacious room for large-scale receptions and international conventions. It assures you of a refined gathering place, furnished with multi-media equipment and cutting-edge acoustic and lighting systems.

The Business Center of the Renaissance Mumbai Hotel and Convention Center offers State-of-the-art system and facilities ensure a pleasant experience.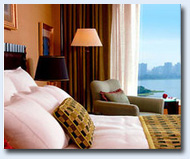 Book This Hotel
It is equipped with personal computers connected to the Internet, printers and other business facilities to serve as personal offices for business travelers.

Amongst other rooms Renaissance Mumbai Hotel and Convention Center offers Powai Ballroom for seminars and exhibitions, and other medium to small-sized function rooms for presentations and meetings. Each room boasts of its own exquisite design and can accommodate a variety of meeting formats.

Services :
Renaissance Mumbai Hotel and Convention Center offers a state-of-the-art workout and spa center with professionally trained and friendly staff. The Renaissance Club offers a fully equipped gym, comprising of strength training and cardiovascular machines. You may avail outdoor swimming pool with Jacuzzi, steam room and tennis court, or pamper yourself at our full service Day Spa with a private massage, facial and body treatments.

Mercedes car pickup, Free local-calls, Discount on F&B for special corporate customers are the other services offered at the Renaissance Mumbai Hotel and Convention Center.