Famous as one of the tallest hotels in India, the Grand Central Sheraton & Towers Mumbai is truly one of the best hotels in Mumbai. From corporate travelers to the comfort and luxury loving leisure tourists, Grand Central Sheraton & Towers Mumbai is the ideal hub in the heart of the commercial capital of India. Located in Central Mumbai it is accessible from the major tourist places of the city.

Location :
The Hotel Grand Central Sheraton & Towers In Mumbai India is located about 300 meters from the Governor's residence and is located close to the business districts of south and central Mumbai.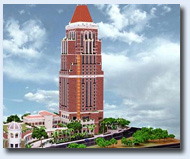 Book This Hotel
The Hotel Grand Central Sheraton & Towers In Mumbai is located at a distance of 22 Kms from the International Airport and 15 Kms from the Domestic Airport.

Accommodation :
The hotel has 242 spacious rooms, including 56 Sheraton Tower Rooms, 17 ITC One and two Presidential Suites. The stately rooms at the hotel Grand Central Sheraton & Towers are elegantly appointed to suit the need and preference of the high profile guests who check in at the hotel. The rooms and suites are cocoons of comfort and cradles of luxury. With their elegant décor and state of the art facilities, they are ready to pamper their guests close to spoiling them.
The rooms at the hotel offer facilities like:

Dining :
Dining venues at the hotel are numerous. WG's Kebabs & Kurries offers Peshawari, Dum Pukht, Hyderabadi and Tandoori cuisine. Hornby's Pavilion is a 24 hrs restaurant and serves international cuisine. Shanghai Club offers authentic Chinese delicacies, and Dublin is the hotel's cozy Irish pub. The pub serves liquor and cocktails.

Facilities :
Conference and banquet facilities at the hotel are state of the art. The Grand Ballroom can accommodate weddings and cocktail dinner for up to 400 guests, theatre style conferences for up to 450 guests, and receptions for up to 750. The CJ's hall can hold up to 100 guests for a conference in theatre style seating. The Terrace Garden Located on LI level of the hotel provides an ideal atmosphere for informal gatherings and cocktail receptions. The Point of View is located at the terrace and serves to be a cozy venue for formal meetings.

The conference facilities at the hotel come with a package of efficient staff and conference concierge apart from the state of the art technical assistance that is provided. Audio visual equipments, video conferencing facilities, fax machine, photo copier, laptop on hire, data port cable, projector, LCD screen, etc are some of the facilities provided by the hotel Grand Central Sheraton & Towers Mumbai.

Services :
The hotel has a swimming pool, modern gym and health club, 24 hrs butler service, in house florist, golf, hair dresser, beauty salon, airport transfer, 24 hrs front desk, travel assistance, luxury car hire, non smoking rooms, same day laundry are some of the services available at the hotel.