Location : South Mumbai

Specialty : Coconut Festival, Ganesh Chaturthi (August/September)

Nearby Attraction : Malabar Hills, Nariman Point

Best Time : Any time of the year

Chowpatty Beach is a place to cool your heels especially after your long day of hectic schedule.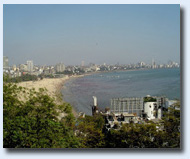 At the North end of the glittering Marine Drive, you can unpack all your burdens here - physical or mental, amidst the open expanse of the placid Arabian Sea. However, there is one catch, the beach may be bustling with life with teeming Mumbai on the sea front, but it is neither suitable for swimming nor for sun bathing.

Chowpatty Beach can be one spot where you could be a witness to a host of festivals that the Hindus celebrate. Come after the Monsoon is passing by, there is time when festivals like Coconut Festival and Maharashtra's signature festival - Ganesh Chaturthi is celebrated in all religious fervor and excitement. Chowpatty Beach becomes the culminating point when idols of Lord Ganesha are immersed in the Sea amidst the chanting of mantras and high decibel songs and chaos.

Chowpatty Beach is abuzz with excitement when the evening engulfs the horizon and a carnival kind of atmosphere dawns on the beach. A huge line of stalls on the beach comes up, selling Mumbai's street delicacies like mouth watering Bhel Puri, Pav Bhaji, kulfi, etc. You can't bet on the hygiene part, but the taste would never be a let down, that's for sure.

How to Reach Chowpatty Beach :

By Air
Mumbai is easily accessible by air to all the corners of the country and abroad. Chhatrapati Shivaji International Airport and domestic airport carry the services of almost all the major flights. These airports are well connected to all the major points of the city by road and suburban railways.

By Train/Rail
You could get down at the Churchgate railway station, which is quite close to Chowpatty Beach. You can get down here and hire an auto or get in a bus to reach the beach.

By Road
Mumbai is well connected to all the major cities of Maharashtra state and other states neighboring to it. City bus services run by BEST connects you to Marine Drive from almost all the major center so the city.