Location : Northwest Coast of Mumbai

Specialty : Techno parties with jazzy music & jive

Attraction : Madh Fort, Exquisite bungalows

Best Time : Any time of the year
Madh Island Beach in Northwest coast of Mumbai has for a change a peculiar rural backdrop and to the forefront of it are some eye-popping galleries of exquisite bungalows that dot the beach.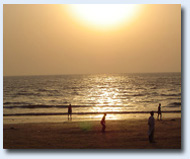 Madh Island Beach is popular for the kind of rave parties that are thrown discreetly, when gentries from upper strata of the city converge and shake a leg amidst peppy music, unleashing absolute fun and frolic.

The best thing about Madh Island Beach is the number of unspoilt sandy beaches where you can revel in utmost peace and calm. However, the beaches are not exactly picturesque, strong and wild Sea current make the beach treacherous and susceptible to the changing of its area and hence it is advisable not to venture out into the Sea.

Whatever be the mood of the sea here, you can be rest assured that Madh island Beach provides you a complete escape from the heat and dust of the city and it is a perfect destination to chill out and reflect alone or your dear ones. You can stroll along the seashore and explore the fishing community that populates the area.

Another attraction on Madh Island Beach is the Madh Fort also called Versova fort. It is believed that this fort was built by the Portuguese as a watchtower and later used as a training camp for cadets. You could come over here for a fresh bout of breeze and fort's picturesque locale that is sure to enthrall you.

How to Reach Madh Island Beach :

By Air
Mumbai is easily accessible by air to all the corners of the country and abroad. Chhatrapati Shivaji International Airport and domestic airport carry the services of almost all the major flights. These airports are well connected to all the major points of the city by road and suburban railways.

By Train/Rail
Mumbai has an efficient network of local trains that you can board to reach each and every nook and cranny of the city. The nearest railway station to the Madh Island is Malad, about 12kms from the Churchgate Virar suburban section of Western Railway.

By Road
Mumbai is well connected to all the major cities of Maharashtra state and other states neighboring to it. City bus services are run by BEST connecting Marve-Erangal-Aksa-Madh.