Location : North of Juhu Beach in Greater Mumbai

Specialty : Home to Mumbai's largest fishing community - the Kolis

Nearby Attraction : Juhu Beach, ISKCON

Best Time : Anytime of the year specially between September & May
The picturesque Versova Beach is set North of Juhu Beach in Greater Mumbai district of Maharashtra. Versova Beach is among Mumbai's hot attractions.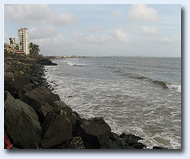 As a continuation of Juhu Beach, Versova Beach is separated by a creek. With splendorous Arabian Sea lunging on its sandy shore, Versova Beach is an ultimate fun destination. It is also home to Mumbai's largest fishing community - the Koils.

You may plan a trip to Versova Beach at practically anytime, however we advice you to make a trip between September and May, when the humidity is low and the cool see breeze gives a pleasant respite from the general heat and grime of the city life.

Among the most fascinating scenes of Versova Beach is the time when fishermen are ready to barge into the Sea to get their first catch, all armed with their fishing nets and lines. The whole ambience gives a surreal feel and can tempt you to go take some snaps of such magical moments. And of course if you are among those who love fishes, then buying fishes could be a great shopping experience as well, with the first catch for your taste buds.

The Arabian Sea on Versova Beach could be slightly dangerous too, since it forms treacherous whirlpools that can suck fishing boats and trawlers. So it's better to be aware while planning to go swimming in the Sea. During High tides the whole of Versova Beach gets submerged.

When in Versova Beach you could plan various other destinations that are equally fulfilling in what they offer. There is Juhu Beach that is another hot fun lovers destination. When in Juhu you could visit ISKCON temple and get some faith healing.

How to Reach Versova Beach :

By Air
Mumbai is well connected to almost all parts of India and world. Chhatrapati Shivaji International Airport and Santa Cruz domestic airport have all the major flights. These airports are conveniently connected by various transport services.

By Train/Rail
You may board a suburban train from Church gate or from VT using the Harbor Line to either Santa Cruz train station or Vile Parle station to reach Versova Beach.

By Road
Versova Beach is well connected with various transport services. You could opt for cabs, autos or buses to reach to the place.