Location : Central suburb of Mumbai

Specialty : Famous for mesmerizing Sunset and Mumbai's street food

Attraction : ISKCON Temple, St. Joseph Church, Gandhi Gram

Best Time : Anytime of the year
Juhu Beach is Mumbai's most attractive beach lapped up by the gushing turquoise waves of Arabian Sea that is all set to act coolant to your frayed nerves.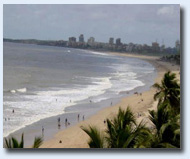 This flat beach is almost in the center of Mumbai and has a carnival like atmosphere year round. With three entrances to Juhu Beach, you could get in from Vile Parle side, Santa Cruz side or from Andheri side.

Famous for its mesmerizing sunset when the horizon against the vast unending expanse of surging Arabian Sea is resplendent with a host of hues that the violent Red of the dying Sun turns into. Come to witness this awe inspiring spectacle when the Sun softly descends into the Arabian Sea leaving behind the patches of its redness which you can lap up a memento of your visit to this fantastic beach.

Always a popular hunt for the city dwellers, Juhu beach has more than sand and Sun, it is famous for Mumbai's own street food. You could relish on lip smacking Bhel Puri, Pani Puri, Shev Puri, Chats and don't miss out on the delectable Pa Bhaji. You may not count on hygiene of these foods, but of course when in India one got to be strong and resilient. But if even that fails to turn you on, then be rest assured that you have a clutch of some of the most luxury hotels and restaurants in the vicinity to keep your taste buds contented.

When in Juhu, you could add to your itinerary some other hot spots of the area. If you are somewhere near to mysticism then ISKCON temple is the place to be. To catch a dramatic relief to your trip to Mumbai, you may well savor some piping hot coffee within the stimulating environs of the Prithvi Theater that has kept the genre of plays alive and kicking. You can also plan a visit to Gandhi Gram at the North end of Juhu beach, where Mahatma Gandhi used to live when he practiced law in the Bombay High Court.

You may also love to know that today Juhu is home to some of the iconic stars of Bollywood too, with the legendary film stars like Amitabh Bachchan and Madhuri Dixit residing here.

How to Reach Juhu Beach :

By Air
Juhu is just 25kms North of the city center and is quite close by to Chhatrapati Shivaji International Airport and the domestic airport. These airports are conveniently connected to Juhu by various transport services. You may opt for some cool cabs or taxis that will take you to the marvelous Juhu Beach.

By Train/Rail
You may board a suburban train from Church gate or from VT using the Harbor Line to either Santa Cruz train station or Vile Parle station to reach Juhu.

By Road
Juhu is well connected with various transport services. You could opt for cabs, autos or buses to reach to the place.