Location : South Mumbai

Specialty : Unspoilt beaches and private cottages

Attraction : Art Deco buildings, beautiful esplanade

Best Time : Any time of the year
Marine Drive is a skillfully laid-out boulevard in South Mumbai. It is actually an upturned 'C'-shaped six lane concrete road, which lengthens to 3 km along the coastline - a natural bay.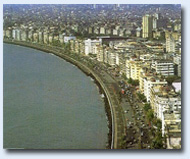 This avenue connects Nariman Point with Malabar Hills. Situated over domesticated land, facing west-south-west, its coastline forms the part of the Arabian Sea. What draws attention to this avenue is the striking esplanade next to the road, where scores of people come to breathe fresh air and view sunset.

Officially called Netaji Subhash Chandra Bose Road, Marine Drive was earlier identified as Sonapur amongst local Marathi populace. Palm trees are lined up along the road, presenting a picturesque view and nice walkway to take a stroll. Having the highest real estate prices in India, the buildings down the road embrace many hotels and are home to many celebrities. Indeed, there is a row of art deco buildings that were built by wealthy Parsis during early 1920's. Bombay just follows Miami (USA) in its number of art deco buildings along the waterfront.

At nights, Marine Drive looks stunning illuminated, with lights and if seen from some elevated point beside the road, it appears like a necklace with street lights resembling a string of pearls. Attributable to its extravagant loveliness, it is also known as Queen's Necklace. Chowpatty Beach, famous for its local fast-food, lies at the northern end of this road. One of the busiest roads in Mumbai, Marine Drive has been acclaimed as the world's largest viewing gallery that hosts various events.

Marine Drive offers the best causeway to take a refreshing saunter next to the sparkling waters of the Arabian Sea. The cool breeze would caress you with its gentle touch, making you feel at cloud nine. 'Nana-Nani' park is the recent attraction, which has been added for senior citizens in the area. Tickle your taste buds with the local 'kulfi' and tit-bits available at road-side kiosks. Thus, Marine Drive is a place that you cannot afford to miss while holidaying in Bombay.