Chateau Windsor Hotel is one of South Mumbai's leading 2 star hotel catering to the needs of the corporate and visiting guests not only from India but from around the world.

The hotel located in the downtown of the city and at a walking distance from major commercial/ business houses, entertainment and shopping centers, provides a comfortable accommodation facility with its well furnished 44 rooms. As the hotel is owned and managed by family members themselves, who are in the hotel business for more than 50 years, you are bound to receive the best in guest service with personal attention to the individual needs of each guest.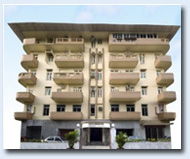 Book This Hotel
The hotel speaks loud and clear about their motto, which is neatness and cleanliness.

Location :
Chateau Windsor Hotel Mumbai is located 22 kms. from Domestic Airport, 2 kms. from U.T. Railway Station and 0.5 km. from Bus Stand.

Accommodation :
Chateau Windsor Hotel offers 40 well equipped rooms for the comfortable stay of the guests. There are 10 single rooms, 10 double rooms and 20 deluxe rooms.

Facilities :
The hotel is partially air-conditioned and offers warm hospitality to the guests. It offers free use of its kitchen for cooking (veg. only)

Services :
At hotel Chateau Windsor Mumbai you may avail services like free car park, Car wash, Shoeshine and minor stitching & Mending.