Hotel Tunga International in Mumbai is famous for offering personalized guest services and warm hospitality. Positioned in an advantageous location, this hotel gives easy access to the major tourist attractions and significant business districts of the city. Apart from this, it also offers cozy rooms, restaurants, banquet halls and other recreational facilities to guests. On staying put at this one of the best three star hotels in Mumbai you will also get an opportunity to bask in the facilities of luxurious accommodation at reasonable rates.

Location :

Book This Hotel
Mumbai Hotel Tunga International is located at CBD Belapur. It is around 2 km away from the city airport and 2 km from railway station.

The favorable location of the hotel makes traveling a very convenient task for both the business and pleasure travelers.

Accommodation :
Hotel Tunga International in Mumbai puts on offer 14 beautifully appointed rooms and deluxe suites. In these guestrooms luxury and comfort are found on a par with each other. The most fascinating part of the guestrooms at this hotel is that they are designed to cater to the needs and requirements of both the discerning business and pleasure guests. The ambience of the rooms is very pampering and in fact refined art of staying is experienced here to full.

All the guestrooms are furnished with an end number of modern facilities that ensure pleasurable stay in Mumbai to the guests. These facilities comprise of television, telephone, supply of running hot & cold water and attached baths.

Dining :
Mumbai Hotel Tunga International is a real paradise of diners. In fact the guests who like to explore new venues to get different taste every day also love to visit this hotel frequently because its onsite restaurant serves them with scrumptious fares adding some innovative ideas into that. Other interesting part is that it also takes care of the health of the guests by featuring healthy delights. Also, the refreshing drinks of this restaurant are must to sip in.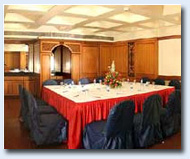 Book This Hotel
Facilities :
To make your everyday a special day in Mumbai the Hotel Tunga International in Mumbai features exquisite and spacious Banquet halls, Conference Halls and Rooftops. In these places meetings, conferences and seminars can conveniently be hosted along with formal and informal parties. However whatever be the purpose of the event, the generous staffs of the hotel make every event a pleasurable experience of life.

Services :
Mumbai Hotel Tunga International is undoubtedly the best hotel of the lot. It becomes more prominent when you will take a look at the stack of the services and facilities it offers. Some of these services are doctor on call, laundry, money changer, pick and drop facility and safe deposit box. Truly speaking these facilities and services offer all the luxurious comforts to guests.