The Gordon House Hotel is a charming little hotel that's big on style. A hotel full of fresh innovative design ideas that are simple yet truly stylish. Unlike the sameness of everyday hotels, the three themed floors allow you the freedom to relax and leave the world behind the front door.

Location :
5, Battery St., Apollo Bunder, Colaba, Mumbai (Bombay).

Accommodation :
'Country Cottage' style rooms are cozy and inviting with pinewood floors, wooden furniture and patchwork quilts.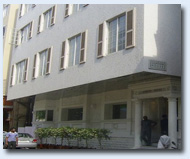 Book This Hotel

The essence of North European lifestyle is captured in understated luxurious rooms that combine clean lines and subtle colors with simple design elements.

Relive the grandeur of an era gone by.. Indulge yourself with a stay at our luxurious Versailles Suite, which revives the opulent era of the Sun King Louis XIV. Surround yourself by gold gilded furniture, crystal chandeliers and beveled mirrors designed in true Parisian style for a royal experience.

Dining :

'Tides' is a dazzling seafood restaurant and bar with a wonderful selection of crustacean complemented by an impressive list of wines. Tides also doubles as a 24-hour coffee shop.

All Stir Fry is an Oriental street kitchen style restaurant with a noodle bar that allows you to create your own meal. Innovative and interactive dining at its best!

Three Flights Up, our boutique club & bar is a vision in white with a collage of colors that create a stunning ambience. Unwind over exotic cocktails and appetizers and enjoy the enchantment that surrounds you!
Facilities :
The Alpine Room is a well equipped conference room ideal for business meetings or seminars. The Patio, an outdoor banquet terrace is the perfect setting for barbeques and private parties under the stars. Perched on the roof of the hotel, the banquet areas can accommodate any event from an intimate dinner party to an extravagant wedding reception.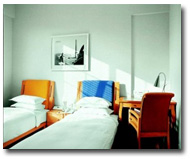 Book This Hotel

Services :
The hotel offers the services and facilities including Bar, Bath Tub, Bathroom Telephone, Hairdryer In Room, Iron, Ironing Board, Laundry Service, Mini Bar, Free Newspaper, Room Service, Shower, Smoke Detectors, City View, Telephone, Temperature Control, Color TV, Cable TV, Dry Cleaning, Laundry, Currency Exchange, Newsstand, Safety Deposit Box, Secretarial Services, Wake Up Calls, Travel Desk Service, Coffeemaker, Concierge Desk etc.