In the core of the luxurious and serene environment of Hiranandani Gardens stands RODAS - An Ecotel Hotel a signature creation of the Hiranandani Group.

RODAS, which means the junction of heaven and earth in Sanskrit, is a uniquely appropriate name for this hotel; where concern for guests goes hand in hand with friendliness towards the earth. The hotel, with its neo-classical arched fašade and modern interiors designed by renowned Architect Hafeez Contractor, displays a distinct combination of contemporary design and old world charm.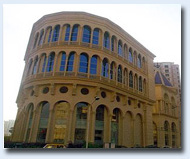 Book This Hotel
Location :
It is located 15 minutes away from the International Airport.

Accommodation :
Well appointed environment friendly Standard Room with a choice of twin or double beds. This 225 sq.ft room has the following highlights like Wall to wall lint free carpeting, Writing desk with Internet connection, Refrigerated mini-bar Wardrobe, Interactive TV and tea \ Coffee Maker in the rooms.

Room Internet Service: The service, provided by ISDN Connect allows the business travelers using a LAN-equipped laptop computer to simply plug in and start working. There is no dial-up access required and no reconfiguration of the laptop computer.

Dining :
Besides, there is Parabola, the 24-hour South East Asia & Continental cuisine restaurant. This 55 cover delightfully decorated dining space also offers a very reasonably priced buffet spread on weekends and festive days.

The heart of RODAS is Zwigs a trendy, place, recently commissioned and set to roll on as a trailblazing concept in pub and restaurant management. Where service is done on roller skates and hunky bartenders juggle with Úlan and an attitude! Vibrant, informal and distinctly trendy in its style of operations, Zwigs has such a lot to offer than merely throbbing music and mesmerizing cocktails. Attached to a spacious pool and snooker room, a lane bowling center and a huge and highly popular Hakone entertainment parlor.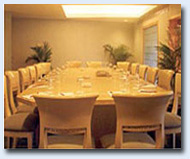 Book This Hotel

Far East is the latest offering to the discerning patrons who have taken to the great food and ambience at the boutique hotel. Offering far eastern cuisine, as the name suggests, the menu shall offer as a bouquet, the best of nations such as China, Indonesia, Japan, Malaysia, Philippines, Singapore, Thailand and Vietnam.

Bowling Cafe Invites you to savor the goodies conjured by our Patisserie chefs for your benefit. A lane bowling center and a huge and highly popular Hakone entertainment parlor, there's so much more for everyone. Experience the heaven at down to earth prices.

Facilities :
Rodas is a hotel that caters to a niche and small clientele with impeccable facilities for relaxation, leisure and business support. It is a designer business class hotel, which are small hotels, but providing very personalized service. The hotel offers a fully equipped state-of-the art business centre, and conference and meeting rooms for more than 250 individuals capacity.

Pavilion Ideally suited for all banquets and functions, the Pavilion offers more than 5000 sq. feet of area that can be effectively utilized, from a formal business conference of 20 persons to a social evening of 400. Choose from the Pavilion I, II or III, all open able into one large area, or the Pavilion IV, for seminars, product launches, exhibitions, presentations, and all social events. Pavilion is fully equipped with all state of the art audio-visual accessories, as also dedicated data-ports for Internet and other communication systems.

Business Center Located on level II, the business center offers two exclusive boardrooms, supported by comprehensive secretarial services. Facilities include, Internet kiosks, TV connections in the boardrooms, fax, photocopier, scanner and personal computers. Other audio-visual equipment can be made available upon request.


Roof Top Based on the theme of Athens, this open Mediterranean style terrace kisses the stars in the open blue sky. Backed with its own kitchen and bar, it offers a great venue for barbecues, theme dinners and cocktails for up to 150 persons.

Facilities are such that The Rodas at Mumbai, boasts of state-of-art banqueting facilities. The Banquet Suites are well appointed and offer the latest audio-visual equipment. All the Banqueting Areas are appointed with Telephone Lines, UPS Points and Inbuilt PA System. The latest audio-visual equipment is available, at an extra charge.

Services :
Services available at Hotel Rodas Mumbai are state of the art like laundry, 24 hrs doctor on call facility, safe deposit and Direct dialing local/International with voice mail.