A Three Star Business and Leisure Hotel of considerable repute, Hotel Supreme Heritage Mumbai is a coveted holiday retreat for tourists and business travelers to Mumbai. One of the finest Three Star Hotels in Mumbai, Supreme Heritage, with its decent facilities and personalized services, is a good value for money. The hotel boasts of a well mannered staff, which leaves no stone unturned to ensure that each and every guest is well looked after while staying here.

Hotel Supreme Heritage in Mumbai is the newest venture of Supreme Holiday Resorts Pvt. Ltd. - a hotel chain boasting of warm and personalized, yet world-class service backed by more than 25 years of experience in the hospitality industry.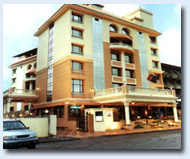 Book This Hotel

Location :
Located conveniently at Sector - 19, Vashi in Navi Mumbai, Supreme Heritage Hotel can be easily accessed from major landmarks in Mumbai. The strategic location of the hotel facilitates in providing the leisure tourists and business guests, utmost comfort and luxury, besides easy access to all neighboring business and leisure centers.

Supreme Heritage Mumbai lies about 32 km from Chatrapati Shivaji Airport, 2 km from Vashi Railway Station and about 1 km from Vashi Bus Stand.

Accommodation :
Enjoy excellent accommodation at any of the 55 centrally air conditioned rooms at Supreme Heritage, which are all comfortable and well furnished. These single and double occupancy rooms are all spacious and airy, and appointed with contemporary amenities of comfort that the guests might need. Some of these facilities are:
Dining :
The guests can savor a vast array of the dishes at the multi cuisine restaurant that serves the food connoisseurs with the best of Indian, Continental and Chinese delicacies. For the vegetarian food lovers too there are many mouth watering vegetarian delicacies. If the drink connoisseurs are looking for a place to unwind the well stocked bar of the hotel is ideal for them. It is well stocked with foreign and Indian liquors.

Facilities :
The Hotel Rang Sharda of Mumbai in India has a Business Centre well configured with modern-day facilities. Hotel Rang Sharda is just the perfect venue for holding the business meetings, and hosting parties. The banquet hall that this hotel offers to its guests is well equipped and can be used for arranging personal parties and social events as well.

Services :
The various other services provided by the Hotel Sharda in Mumbai include: Medical help, Car rental, Parking Zone, Foreign Exchange Services, Safe Deposit Locker, Swimming Pool, Travel Assistance, Shopping arcade, Electronic safe, Power Backup, Medicine kit, Health Club.