Mirador Hotel Mumbai is another name for comfort and luxury. Hotel Mirador is a place where you will find everything more than your expectations. All rooms at hotels are artistically designed with vibrant colors and furniture. It is a perfect place for relaxation in luxury.

Location :
2kms from the International Airport, 4 kms from the Domestic Airport.

Accommodation :
Mirador hotel in Mumbai boasts of 100 well-appointed rooms.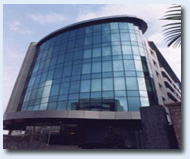 Book This Hotel
The Guest Room Amenities at the Mirador include Herbal toiletries, Bathrobes & shower cubicles, Tefal tea/ coffee makers, Electrolux mini bars, Individually controlled thermostats, Central Air-conditioning, Sewing kit, and Medical kit.

The Executive Room Amenities at the Mirador include Bathroom slippers, Bathrobes, Superior toiletries, 1 set of clothes, 1 pressing with compliments, 1 beverage with compliments, Half an hour internet usage with compliments, and 2-way airport transport with compliments.

Dining :
At the end of a busy day, you don't have to travel all over town to find a stylish place to enjoy cocktails and fine dining.

The Ripple This is the prefect place to kick back and relax. But keep your eyes open because you never know who will be stopping by this popular Hollywood hangout. Recommended by American Airlines Celebrated Living - "Cafe Noir specializes in barstool travel featuring globetrotting cocktails."

The Trend 24 Hour Multi-cuisine Restaurant (serving buffet breakfast, lunch, dinner, a la carte and a special Sunday Brunch)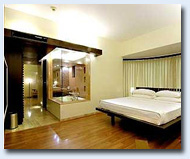 Book This Hotel

Facilities :
It is a business centre for the corporate mind and the easy soul. With a distance of just 2kms from the airport, 4kms from the domestic airport and a second away from warm and impeccable service is a mirage that turns real when experienced, reflecting your view.

Services :
Other services offered by the Mirador include 24-Hour Front Desk, 24-Hour Room Service, Atrium Lounge, Babysitting Service, Drinking Saloon, Car Rental Service, Concierge Service, Outdoor Pool, Parking, Safe Deposit Boxes, Same Day Laundry Service, Shopping, Tour Service, Valet Service, Wake-up Service, and Wheelchair Access.