Mumbai's Hotel Rang Sharda stands to impress all discerning guests with their warmth and hospitality. The hotel one of the most preferred of all the Three Star Hotels in Mumbai. It boasts of a strategic location and is quite easily accessible from the various business and entertainment districts of Mumbai. The hotel is simply a home away from home and is the perfect retreat for the business and leisure travelers as well.

Location :
The Hotel Rang Sharda of Mumbai in India is suitably located 10 kms from C.S. Shivaji International. Airport, 5 kms. from Domestic Santacruz Airport, 1.5 km.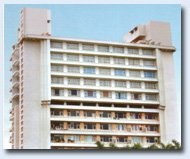 Book This Hotel
from Bandra Railway Station and 1 km. from Bandra Bus Stand. The hotel is also located at a convenient distance from the various tourist attractions of Mumbai.

Accommodation :
The thoughtfully decorated rooms at the Mumbai's Hotel Rang Sharda offer the utmost comfort and coziness to the guests so that the guests can have a pleasant time being here. There are 70 rooms in the hotel from where the guests can choose according to their choice and comfort level and at the reasonable costs. The room amenities offered by the hotel include: Supply of hot and cold water, Attached Bath Room, Telephone, Television with cable channels, Tea - Coffee Maker in Rooms, Luggage rack, Room Service.

Dining :
The guests can savor a vast array of the dishes at the multi cuisine restaurant that serves the food connoisseurs with the best of Indian, Continental and Chinese delicacies. For the vegetarian food lovers too there are many mouth watering vegetarian delicacies. If the drink connoisseurs are looking for a place to unwind the well stocked bar of the hotel is ideal for them. It is well stocked with foreign and Indian liquors.
Facilities :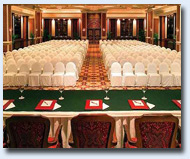 Book This Hotel
The Hotel Rang Sharda of Mumbai in India has a Business Centre well configured with modern-day facilities. Hotel Rang Sharda is just the perfect venue for holding the business meetings, and hosting parties. The banquet hall that this hotel offers to its guests is well equipped and can be used for arranging personal parties and social events as well.

Services :
The various other services provided by the Hotel Sharda in Mumbai include: Medical help, Car rental, Parking Zone, Foreign Exchange Services, Safe Deposit Locker, Swimming Pool, Travel Assistance, Shopping arcade, Electronic safe, Power Backup, Medicine kit, Health Club.