Juhu Hotel located in the prominent Juhu Beach stretch is not only the oldest property in the area ( Established in 1934) but is also the only one in the metropolis with a true resort-style ambience.

The Hotel unlike the other five-star venues, that have cramped the Juhu area, is spread over a 2 acre plot. Its sprawing garden area on the beach front provides an unparalleled view of the sea and is a fabulous party zone.
The cottages which house 13 rooms and 5 deluxe rooms for the hotel guest are unassumingly situated on the side of a large driveway leading to a large reception and office area.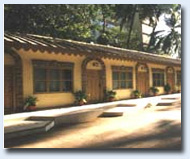 Book This Hotel
The cottages have a direct access to the beach. The lush green beautiful lawns are ideal for strolling at night.

An open restaurant serving the best Punjabi, Mughlai & Chinese cuisine, caters to those guest who want to enjoy the sea breeze in the night sky. "It's the high level of personal attention that our guests enjoy that makes the hotel such a popular venue." For weddings and receptions under any religion, the hotel is capable to provide a fitting and tailor made ambience in terms of decoration, lighting, sound and catering. Gold & Silver cutlery to serve the exquisite cuisine, period furniture & traditional settings of places is in demand for weddings.

The Banquet facilities at Juhu Hotel are also geared to meet the needs of Corporate Customers. Larsen & Tubro, United Breweries and many more companies have held Product Launch parties, Dealer conference and other such events at the Juhu Hotel ."The ambience that our customers request at times is a challenge. We have an in-house designing team which more than matches the expectations of our discerning customers.

The hotel also houses one of the most frequented night clubs of the city, Razzberry Rhinoceros which is also incidentally the largest in Mumbai with pool tables.

Regular visitors at the Juhu Hotel include a lot of Celebrities and high society clients.

So be it a wedding reception, birthday celebration or a major corporate event, the Juhu Hotel provides an unmatched ambience.

Accommodation :
The hotel has 18 centrally air-conditioned, well furnished rooms with all modern amenities and direct dial facilities.

Dining :
The open air restaurant facing the Arabian Sea is unique for its ambience and delicious Punjabi, Mughlai & Chinese cuisine.

- Spread across lush green lawns, Juhu Hotel has the perfect ambience for:
- Marriage: reception & vidhis.
- Corporate get-togethers.
- Anniversaries & Birthdays.
- Film Mahurats and
- Theme parties.
- Ample Car Parking Facilities.
- Capacity from 20 to 1200 people.

Razzberry Rhinoceros

- A Disco & Performance theatre with Live Bands, fashion shows, Plays etc.
- Regular Discotheque from 8.30 p.m to 1.30 a.m includes :
- Live 9.00 to 12.00 a.m
- Thursdays - Rock Band
- Sundays : Pop, Jazz, Reggae, Fusion
- Other Days 7.00 to 10.00 p.m - Happy Hours
- Every Afternoon to Evening 12.00 to 7.00 p.m - Jam Sessions
- Pool Tables - The best in the City
- Video Wall for Live Cricket, Soccer & Other telecast Events